Our Team
We have an awesome team of very skilled riders coaching the Krankin' Kids each term. Our coaches all have one thing in common - they are all extremly passionate about mountain biking! Aside from that, they are a varied bunch with many different skills and experiences between them. Have a read and get to know a bit more about them here.....
Krankin'Kids Manager and Senior Coach
Emma is passionate about riding her bike, and has been riding mountain bikes for 20 over years! Emma has a strong background of racing with six years racing on the national mountain bike circuit. Emma started Krankin Kids 3 years ago after recognising a demand for junior mountain bike coaching. Emma loves the fact that the programme has been met with such enthusiasm from so many junior riders, and is looking forward to many more terms of fun and good times on two wheels!
Qualifications:

NZOIA Mtb 1 & 2 and Assessor
PMBIA Level 1
PHEC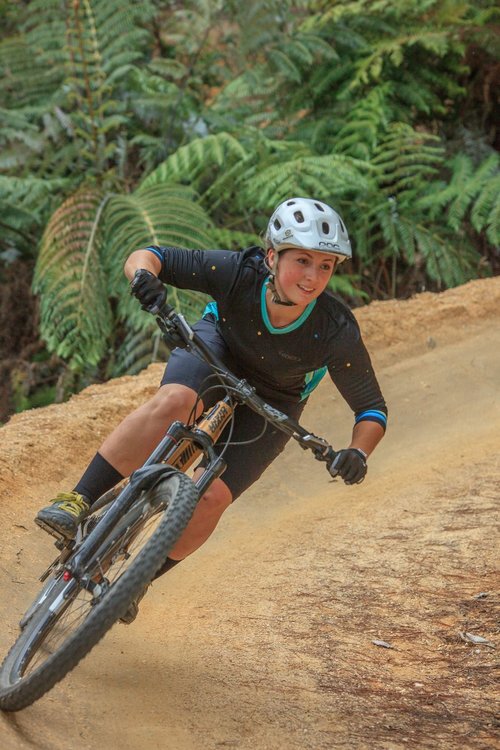 Senior Coach and the Krankin Kids social media guru. Say hello to Alice over at Instagram 😀
Alice is motivated by seeing the incredible progression of riders in the course. Alice loves to ride all over Nelson, and tries to challenge herself on a regular basis. The overall growth of mountain biking in Nelson is something Alice feels passionate about, and wants to encourage as much as possible, but especially for female and younger riders. Alice usually coaches on a Tuesday or Wednesday night in Nelson and Monday in Kaiteriteri.
Qualifications:
PMBIA Level 1 PHEC
Senior Coach
Mountain bike adventurer and bike skills coach, Damian has been involved in mountain biking for 20 years and is a Brand ambassador for a number of different companies including Santa Cruz Bicycles NZ, Shimano NZ, Ground Effect clothing, Yakima Bike Racks. Notable missions include the Waiau Toa Odyssey - biking and pack rafting from Lake Rotoiti to Kekerengu.
Qualifications:
NZOIA Mountain bike 1
PMBIA Level 1
New Zealand Certificate in Outdoor Leadership
PHEC
Senior Coach / Safety management
Marty is a big hit with all of the Krankin Kids! One of our most inspirational coaches, we are stoked to have Marty on the team - he's awesome! Marty coaches our Richmond riders and often part of our Krankin' Kamp coaches.
Senior Coach
Callum has been a Krankin Kids coach for many terms now and has been having a blast. He's a local boy, and has completed the Krankin' Kids programme himself. Callum is currently working towards his NZQA coaching certificate. He loves racing Enduro and lives for back country adventure rides. Callum rides a trusty Santa Cruz and can be found shredding down any grade four or five trails or some sneaky laps of Crazy Horse. Callums favorite part of coaching is seeing the improvements in everyone's riding.
Qualifications:
PMBIA Level 1
Senior Coach
Brenda (AKA Bob!) started cross country racing 20+ years ago racing nationally and internationally. Now a days, any racing is done on her Juliana trail bike or Santa Cruz single speed. Bob is also addicted to bike packing – mostly because of the exploring and being able to eat as much food as you want! Bob is found coaching the Richmond riders and loves it when she sees the riders find their flow on the Omega trail in Silvan Forest.
Senior Coach / Senior Training Coach
Tay is the life of the party every Tuesday and Wednesday at the Nelson sessions! His enthusiasm for mountain biking is infectious, he's the coach that everyone wants to ride with! Tay has coached for Krankin Kids from the very beginning, and absolutely loves helping riders realise their potential. Is it true that you just become a better rider when you ride with Tay? Come and join us and find out..!
Senior Coach
Morgan is our local expert, coaching the Kaiteri Krankin Kids sessions. With experience drawn from previous seasons coaching MTB in Whistler, Canada, and Woodhill MTB park in Auckland. When Morgan is not coaching for Krankin Kids, you will find him out riding the Kaiteriteri Bike Park, or running his shop in Motueka, Mot Bike Co.
Qualificaions:
IDP Level 1 & 2
Senior Coach
Hunter is a talented rider who loves nothing more than riding and racing his bikes, and sharing his passion for MTB with the Krankin Kids. You will find Hunter coaching our Richmond and Kaiteriteri sessions.
Qualifications:
PMBI Level 1
Senior Coach
Tommy is a school teacher by day, mountain bike shredder at all other times! Tommy's passion and enthusiasm shines through in his coaching, he genuinely loves seeing the riders progress and loves helping them learn new skills to be able to enjoy the sport we love. Tommy coaches our Nelson and Richmond groups.
Senior Coach
Bike mechanic by trade, Gazz spends his days surrounded by what he loves - Bikes! You will find Gazz coaching our Richmond groups.
Junior Coach
Ethan is one of the young rippers who has progressed through the Krankin Kids programme, and is now training towards becoming an assistant coach himself. He attends the programme as a participant one evening, and helps out as an assistant coach on the other - what a legend - Thanks Ethan! We love your assistance and enthusiasm for the programme, and for mountain biking!
Senior Coach
Tristan is one of our riders who was a Krankin'Kid on the very first session and has progressed through the programme, and loved it so much he trained up as a coach himself to share his of MTB! He, like so many of our coaches lives on his bike, loves racing enduro and is a cycle courier. You will find Tristan coaching in Nelson, with a smile on his face at all times - because bikes are RAD!
Junior Coach
Rebecca is a promising up and coming rider in the Nelson Region. Currently holding National Championship titles for U15 womens Downhill and Cross Country. She is also the U15 Oceania Cross country champion. Rebecca was one of our first female riders in the Krankin Kids program when we first started, it has been amazing to see her progression and now have her coaching for us as well! Rebecca is a very competant rider who can often be seen shredding the hardest trails in the Nelson region.
Junior Coach
Fergus was a young Krankin'Kid, trained up and now part of our team as a junior to coach to assist with coaching in Richmond and sometimes Nelson. Fergus loves competing in downhill and enduro events.
Senior Coach
Zack is a junior ripper who loves flying through the air on two wheels. When he's not out loving life on his bike, he's assisting Gazz with a group of shredders in Richmond, while training up to be a senior coach himself.
Junior Coach
Jack has been with Krankin Kids since the beginning. Any spare time he has you will find him on his bike ripping up the trails. Jack has a real love of downhill racing and loves sharing his knowledge and tricks with younger riders. It it great to have Jack join the coaching team, sharing what he has learnt and continues to learn.
Junior Coach
Liam is a local Kaiteriteri Mountain biker and is one of our riders who has come through the Kaiteriteri Krankin Kids programmes from the start. He enjoyed the programme so much he is training to become a Junior Coach. He's been involved as a Junior Coach over the first Krankin Kids winter sessions held in Nelson and is looking forward to continue his coaching into the summer at Kaiteriteri.
You'll find Liam walking/slugging is way uphill as he prefer's the downhill sections and jumps the best!
Blenheim Senior Coach
I've been riding for about 3 years. Only getting seriously involved over the last 18 months when my daughter Maddy showed a real love of mountain biking. My passion now is to help, encourage and teach other girls into the sport, I see how hard it can for them at times when they want MTB to be their sport. Having a group of friends to ride with at weekends, school events and maybe even race club events can make a world of difference.
Some of my favourite trials are Una Moss, Southpark & Blue Velvet in Whistler.
Qualifications:
PMBIA Level 1
Senior Coach Blenheim
I've raced motocross since the of age 14, up until 2016, run MTR events and have been coaching motocross riders and running camps to coach Kids for 8 years. In 2016 mountain biking turned into a sport and something I do competitively not just for fitness, I race enduro and downhill events and just enjoy riding my bike
I really enjoy seeing the progression of the young kids as they try new things on there bikes.
Senior Coach Blenheim
Ian has been riding mountain bikes since the days of no suspension, side-pull brakes and bright neon coloured frames (early 90's!). As a teacher in his regular day job he loves to provide opportunities for young people to ride and develop their skills and jumps at any chance to ride his bike. A fan of marathon and cross country racing, Ian likes to spend his spare time riding with his family.
Blenheim Senior Coach
I've been riding bikes since before mountain bikes existed, and started mountain biking at high school. I raced through university, and landed a job as a bike mechanic before spending 6 months cycle touring around Europe. There was another stint as a bike mechanic in Scotland before I came home.
Now, with a family full of keen riders, I love exploring all the amazing trails we've got in this part of the world.
Junior Coach - Nelson
I love riding my bike purely for the fun of it. It is also a good social activity with my mates. I love Nelson riding, especially, the more out there trails, especially in the high country. I like to coach at Krankin'Kids because I love to have fun with the kids while passing on the skills I have learnt. It is great to see the progression through the terms, while seeing the smiles on the kids faces and happy parents when the kids tell them what they have learnt to do.😁
Junior Coach - Nelson
I absolutely love racing and just getting out and riding my bike as much as I can. I'm always keen for a good backcountry adventure but my real passion is enduro and downhill style riding. I enjoy helping the kids so much in any way I can and seeing them improve throughout the program is my favourite part about coaching.
Training Coach
I was a Krankin'Kid when I was younger and enjoyed it so much I started volunteering and training to be a coach. I love spending my time riding the trails in Nelson and Richmond. I also like competing in downhill and enduro races. When I'm coaching I really get a kick out of seeing the kids gaining confidence as they learn new skills.